Typing on Top of a Scanned Form in Microsoft Word
---
Word
---
---
I see a lot of questions about this. My first thought is "forget it". It's a pain in the butt. I'll never do it again. But if you must-you must.
First make sure you don't want or can't use Easy Guided Forms or Online Forms. Now, if you're determined to type on top of a scanned graphic, here's how.
Insert the Graphic
Go to View Header and Footer and insert or paste the graphic into the header. Double-click the graphic to get the Format Picture dialog, and go to the Layout tab. Choose Behind text as the layout and hit OK. If necessary, resize the graphic to fit, then close the Header/Footer toolbar.
Textboxes will likely work best for exact placement of text into the space required. I hope you weren't thinking you could just tab to each spot? So, if you're using textboxes, you might want to turn off the Drawing Canvas to keep it from annoying you while you work.
To insert a textbox, use the Drawing toolbar. Click on the textbox icon, and click and drag in your form area.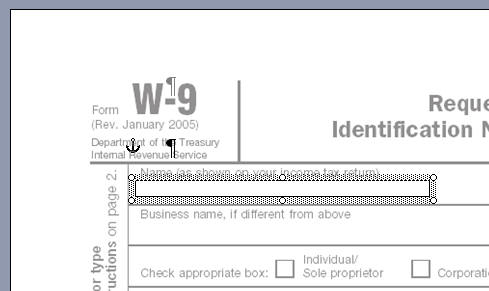 You'll want to remove the border from the textbox, and perfectly resize the textbox to fit. Use the Alt key for perfect size/resizing.
---