Create Raffle or Event Tickets in Microsoft Word
---
Word
---
---
Microsoft doesn't appear to provide a raffle tickets template and I'd seen several requests, to I decided to create one.
I had wanted to create a file that didn't require Excel as the data source, so I created one using SEQ fields. It was terrible and too huge to mention (thanks Doug Robbins), so I recreated it using Word as the data source so that people who only have Word can use it. You can create up to 5,000 tickets without changing the data file. If you only have Word and need to create more than 5,000 tickets, please don't type the ticket numbers. Just drop me an email and I'll create another data file for you with the required numbers.
You can download the required files by clicking here.
There are two files in the Zip file. Both files must be removed from the zip file and placed in the same folder on your PC or on your Desktop.
raffletickets.doc contains the raffle ticket layout
raffleticketsdata.doc contains the numbers that will print on the raffle ticket and the ticket stub
Design the Ticket
Open raffletickets.doc. You'll be prompted with the following if you are running Word 2002 or higher:
If you are comfortable with Word's tables, you should have no problem. Just insert graphics and text. Don't forget:
Date of event and rain date, if any
Date of drawing, if different from event
Reason for event
List of prizes
Guidelines
Some tips for creating your tickets.
Turn your Show/Hide button on so you can really see what you're doing.
You must use Ctrl+Tab if you want to tab within table cells.
I prefer using Inline with Text when I place graphics.
The left-most and right-most columns are NOT part of the ticket. I inserted those so I could create "crop marks" to cutting the tickets apart later.
Don't let the row height or column width increase.
You can create one "master", and then copy and paste into the others. Click here if you're not really used to working with tables.
After your ticket is completely designed, save the file.
Turn on the Mail Merge toolbar and hit the preview button to see what your tickets will look like.
Merge With Ticket Numbers
Hit the Merge to New Document button on the Mail Merge toolbar. (I don't advise merging right to the printer. Most of you that are selling raffle tickets don't want to waste the paper to print them wrong.)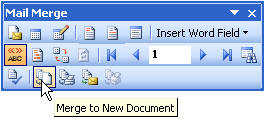 At this time, decide how many tickets you want to print. You can choose All and print 5,000 or you can choose to print only a certain amount. For instance, you may want to print records 1 to 500 to print only 500 tickets. If you need to print more tickets later, you'll want to print records 501 to 1,000 to print another 500 tickets.
---