Save a Chart as an Image File Microsoft Excel
---
Excel
---
---
You have your chart all ready and you want to insert it into your web page. From the File menu, click Save as Web Page…
From the Save As dialog, make sure that the Selection: Chart radio button is selected.
Choose the folder that you want to save your files in and click Save.
This will produce 3 files:
An HTM file
An XML file
A Gif file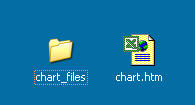 The XML and GIF file are saved to a folder; the HTM file is saved outside of the folder. Do not delete the HTM file before getting your copy of the GIF first. Deleting the HTM file automatically deletes the folder and its contents as well.
Seems like a long way to go to get an image, but if you want a really sharp image of your chart and you don't have a screen capture program, this is the next best alternative.
---